Take a look around your office building. Now take another look, this time as someone who has never seen it before. During your second go-around, consider how an outsider would likely perceive the facility if they'd never seen it before. Is it in fairly good condition, or is it one of those places that clients might associate with secret mafia meetings and shady business deals?
Now that your business is well-established with a reliable staff and a steady stream of clients, it's time to give some attention to its physical home now. You did what you had to do when you first bought the office, but a more reliable income can help you make it feel homier. Remember that Grandma always said you can't change the first impression; if prospective clients get an unkempt vibe from your office when they walk in, then it's less likely to go well. An office building that is not in very good condition is likely to make clients question the condition of your business dealings. It's a vicious cycle!
Prove all the naysayers wrong by giving an overhaul to your office in 2021. It doesn't have to be anything major or expensive, but you've worked hard to gain a reputation in the industry. Maintain that reputation by taking the time and spending the money to improve your office building.
1. Get Extra Help by Outsourcing Recruitment Services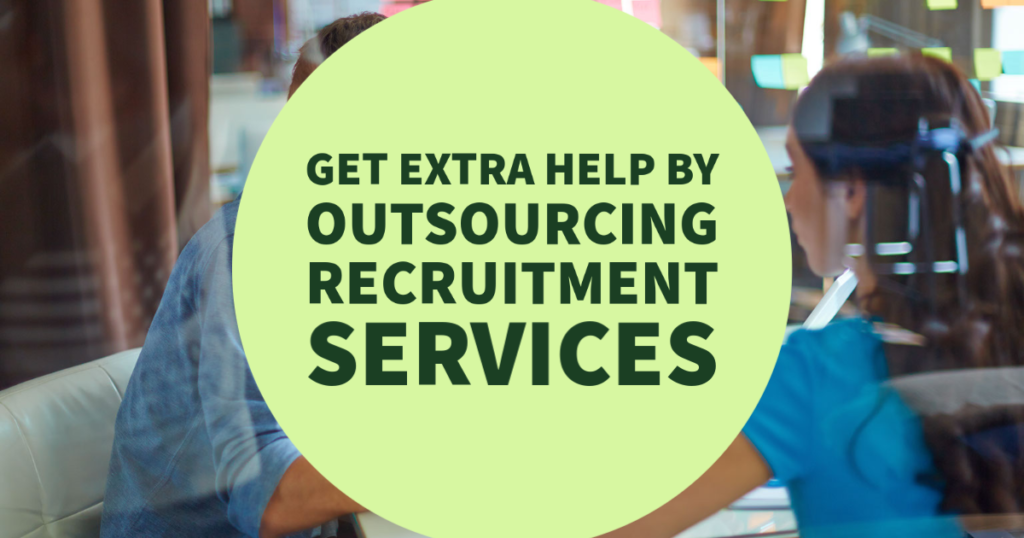 A fantastic business office is staffed with the creme de la creme of the industry. The people working for you are the face of the company, the first interactions with potential customers. Employees are the gears and cogs that keep everything running inside, making it all the more important to have a firm recruitment process in place. You've hired your first set and are happy with them. However, as time changes things and you find yourself needing more people, suddenly you might not be able to review candidates like you used to.
Your company is in a phase of growth, and that's awesome! Even if it's frustrating, it's a good sign when you can't personally oversee every single facet — which might include finding additional help. Recruiting and hiring a new employee is a long process, which is the very reason that recruitment services were born in the first place.
Acting as a liaison between your business and prospective employees, a recruiting agent does all the heavy lifting for you. Instead of you being forced to write a job description, post it online, and sift through resumes, the agent does all that and more. They will continue the process until the very end, where they schedule interviews and help you narrow down the best candidates.
Recruiters are also great because they foster long-term relationships with you and employees. They can help you with hiring people for your office later on and can act as a fantastic resource when employees have very specific questions. It's worth spending the money now to give your office a set of well-selected, hardworking people — and to make a new business connection with the recruiting company you choose.
2. Make the Office Accessible to Everyone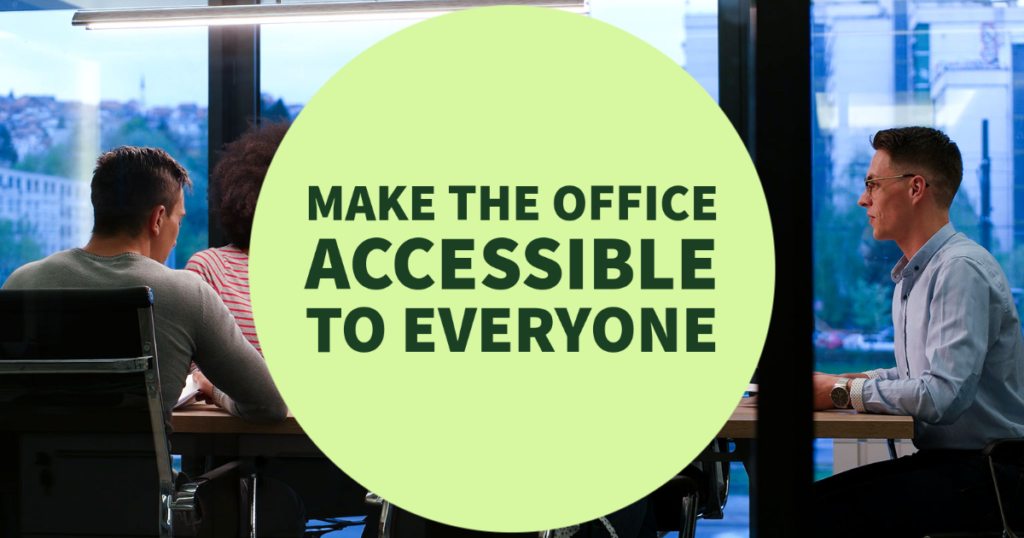 Appealing to people of all shapes, sizes, and abilities should be one of your top goals. Ensure that your office can properly welcome all visitors inside by improving accessibility. This doesn't only mean specially marked spaces in the parking lot (even though that's important and should not be ignored), but larger-scale improvements also. Think about things like:
Elevator repair. All elevators are required to be inspected at least once a year to ensure that they are safe and in good working condition and aren't in need of elevator repair. A typical elevator lasts between 20 and 30 years, so expect to replace yours soon if those anniversaries are creeping up. Ensure also that they are the proper width and size so that people in wheelchairs can fit comfortably inside, and double-check that the timer on the doors is set for a long enough duration of time for people to get through.
Automatic doors. And here you thought they were just for convenience's sake! While that is true also, it's not the only reason you might want to equip your office with automatic doors. Weight sensors will keep the doors open for as long as you need, only closing when the weight is no longer detected. Convenience aside, automatic doors also carry fewer bacteria from being touched less, making them a more sanitary choice for office buildings.
Large-font signs and literature. Look, admit it: The older you get, the harder it is for you to see teeny-tiny letters on signs and pamphlets, whether you wear glasses or not. Ensure that any literature (flyers, business cards, etc) contains a font that is large enough to be seen by all audiences. If nothing else, at least it'll grab everyone's attention!
Inclusivity isn't just a hashtag — it's an authentic lifestyle, and your office needs to be accommodating. Look for other ways that your entire office building can be better equipped for any client that comes through the door.
3. Spruce Up With New Office Furniture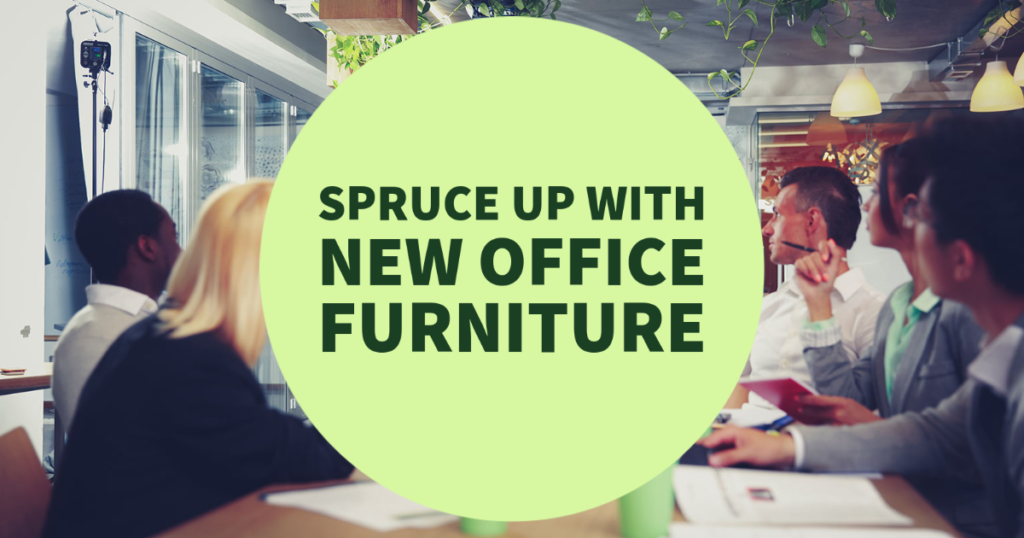 When your business was a tiny baby, it was small enough to be housed on that folding table and chairs you bought when you went camping that one time. That worked once upon a time, when you operated out of the office/guest room at your house. Now, however, your company is a full-on running, backtalking teenager, and it needs a space that fits its seemingly overnight growth.
We get that you needed something quick to furnish your office at the time. Unfortunately, that scratched and chipped wood-paneled desk/file cabinet set from the 1970s might not be cutting it anymore. For better or worse, the quality of your office furniture gives a message to prospective customers — and the message they're hearing might not be the one you want to send.
As your budget allows, start replacing furniture pieces to bring your office into this millennium. We are not saying avoid used furniture; contrarily, there are some amazingly affordable commercial office furniture stores with a gently-used section. You can find matching sets in bulk while spending a fraction of the price, and the condition is nothing that a few tightened screws and gentle cleaning won't fix.
Think also about what's underfoot. Your flooring can get wrecked in a hurry without protection, so consider also looking at floor mats for underneath desks and rolling chairs. These can be as fancy as you want, but a standard clear plastic mat that grips carpet does the job just fine. So long as the mat doesn't slide around and covers your entire floor surface, then it should stay protected from chairs and foot traffic.
4. Improve Your IT Services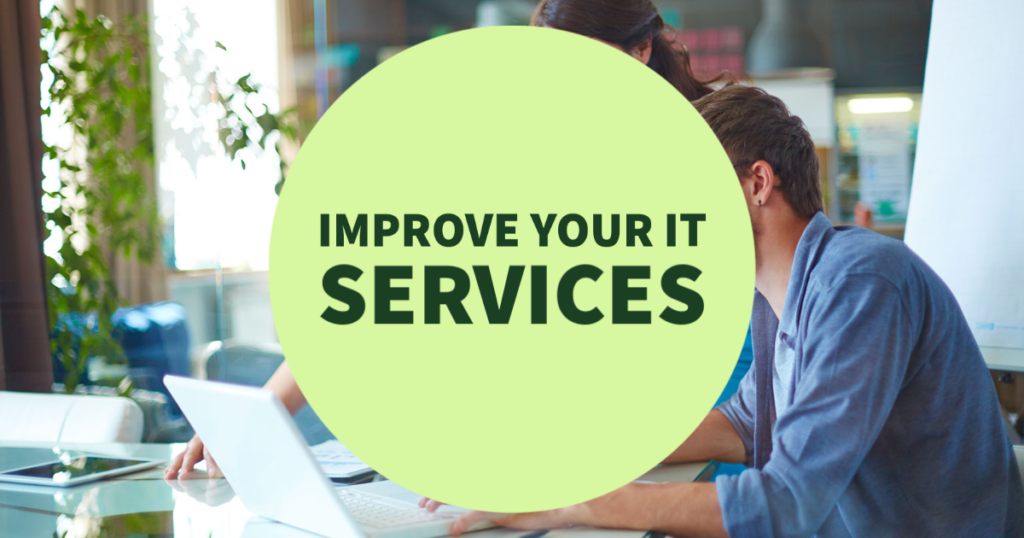 Raise your hand if you've had to depend on technology this last year for a meeting, appointment, interview, or any other face-to-face confrontation. If you're not raising your hand, you're either playing with us or have managed to find a private island somewhere that the rest of us don't know about. Regardless, most of us have realized this year just how important tech is to help day-to-day functionality run smoothly.
With all of this in mind, you've likely had to evaluate your own IT access and decide just how functional it is for your office. Think about all of the ways that you depend on technology:
WiFi for clients and employees. This isn't just a great draw for patrons, but it's also nice for staff who don't want to use their own data plan during the workday.
A solid internet connection for all computer and Bluetooth systems. Most businesses are dependent on the internet for things like scheduling appointments and accessing documents. What would life be like if your connection only worked when it felt like it?
Security and encryption services. Medical and law facilities are not the only businesses that need this kind of software; even retail corporations handle credit cards and personal information every day. What would you do if there was a security breach, and would you even have a clue where to begin?
We already discussed the importance of outsourcing a recruiting agency to help you with the hiring process. In the same vein, your technology department might be better helped by outsourcing a managed IT services provider to assist. Think of these professionals as any other contractor like a plumber or electrician: It's their job to ensure your IT services are meeting industry standards by monitoring and supporting whatever problems and issues are coming up. With all of the ways that technology has saved your life this year, it's worth investing in for the health of your company's digital side.
5. Review Your Shipping Invoices
Any big-ticket purchase that you make for your office is going to be stressful. Spending a large amount of money is not something that should be done on a whim; a well-versed and thorough accountant on your staff is a monthly payroll well-spent. An accountant can oversee all of your finances and review your bills versus your monthly income — and, incidentally, help you with all of your shipping needs.
Shipping invoices are hugely important. They are not just proof of purchase, but they show you what exactly you are supposed to have received, the date of delivery, and other pertinent information. If you ordered 100 yellow umbrellas and received 100 rubber duckies instead, for example, a shipping invoice is going to help you sort the problem out immediately. Your accountant can also look over the numbers and help you determine what's what even more quickly, and you can even ask them to perform a parcel audit to make sure you're paying the correct amounts for shipping..
6. Enhance Curb Appeal
Remember Grandma's advice about a first impression? Here's where you really need to put it into practice. If people look at your office building and are afraid to go inside, then this is probably not the kind of vibe you're trying to project. (Unless you're one of those ghost tour companies, in which case, carry on.) Overgrown weeds, cracked sidewalks, and shaggy bushes can put people off, making them wonder why you don't take more pride in your office. But you know that isn't true.
A landscaping and design company is the perfect solution here. For a fee, these pros will perform landscape maintenance like trimming hedges, tending to flowerbeds, and commercial lawn maintenance. What would take you weeks on your own can be completed in a matter of hours with a few people and the correct equipment.
If you're ready for a complete overhaul, a landscaper can help you design something brand new to help enhance your storefront. This will mean completely tearing out any existing plants and trees and starting fresh, but what a great way to kick off the new year! A new design with brand new flowers and greenery is a symbolic way to start in 2021. Show the world how much you love your business by sprucing up its exterior as well as its interior.
We are as ready as you are for the new year to kick off with rainbows and sunshine. In the weeks to follow, focus on your office building. Between appealing to any customer that comes through and hiring top-notch employees, it takes a lot of effort to make your office a welcoming place. It's not impossible, though. Take the time to transform your office from drab and dated to fresh and comfortable. It might not feel like it'll make a huge difference, but small improvements here and there add up over time.
Taking pride in your office is not being braggy; it shows anybody who walks in that you value yourself and your company, and are more likely to value them and what they are bringing to you. Of the 30.2 million small businesses in the United States, let yours stand out. Humans automatically make subconscious judgments, and an office space that is uncared-for, out of date, and doesn't properly service everyone will send off alarms for most people. As you continue to enhance your office, keep asking yourself: What would someone who has never been here before thinking at first glance?